One and a half million fans from all over the world are expected to visit Qatar to watch the World Cup finals, which start on 20 November.
But the Gulf state, which follows strict Muslim laws, has been widely criticised for its ban on same-sex relationships and its treatment of migrant workers.
What are Qatar's laws on same-sex relationships?
Homosexual acts are illegal in Qatar because they are considered to be immoral under Islamic Sharia law.
Punishments include fines, prison sentences of up to seven years – and even death by stoning.
Qatar's World Cup organisers state "everyone is welcome", and claim no one will be discriminated against.
However, Qatar 2022 chief executive Nasser al Khater insists the government will not change its laws on homosexuality and has asked visitors to "respect our culture".
In the run-up to the tournament, a Qatar World Cup ambassador said that homosexuality was "damage in the mind", and LGBTQ+ people attending the tournament should "accept our rules".
Former Qatar international Khalid Salman made the comments to German broadcaster ZDF for a forthcoming documentary.
A recent Human Rights Watch report says that Qatari security forces are continuing to arrest citizens who are gay, lesbian, and transgender, sometimes forcing them to undergo conversion therapy.
Qatar's government said the report contains false allegations.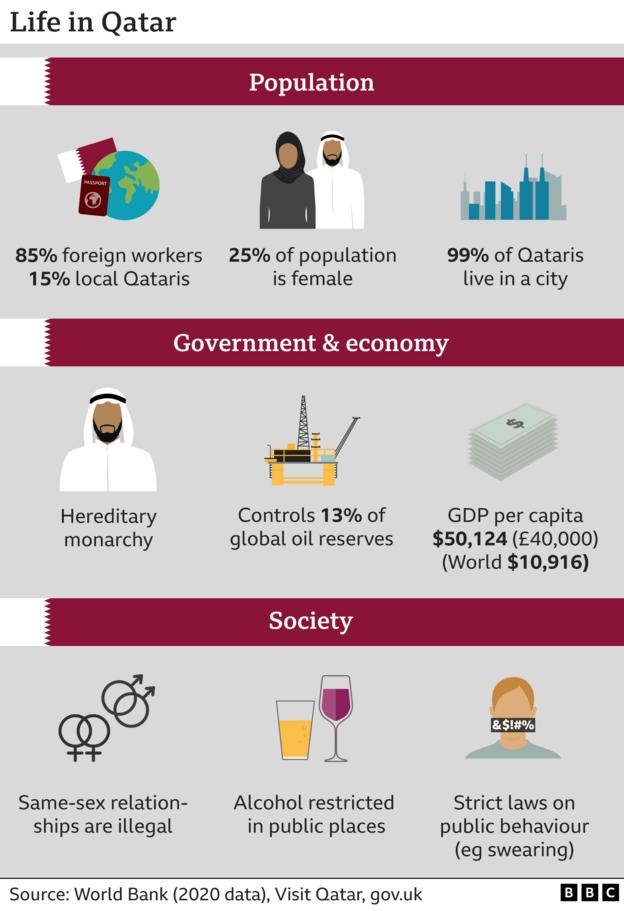 Fifa has written to the 32 teams competing at the World Cup telling them to "now focus on the football". It said football should not be "dragged" into ideological or political "battles", or "hand out moral lessons".
In response, ten European football associations – including those of England and Wales – said that "human rights are universal and apply everywhere".
England captain Harry Kane and the captains of the other nine teams will wear "One Love" armbands to protest against Qatar's anti-homosexuality laws.
How are foreign workers treated in Qatar?
An estimated 30,000 workers from countries such as India, Bangladesh, Nepal and the Philippines have been building facilities for the World Cup finals, including new stadiums, hotels, roads and the city in which the final match will take place.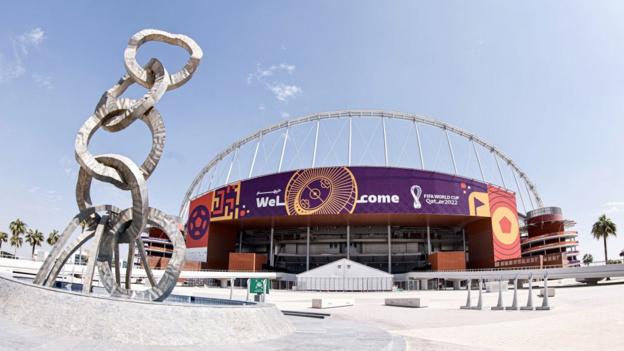 In February 2021, the Guardian said 6,500 workers had died in Qatar since it won its World Cup bid, using data supplied by embassies in Qatar.
However, the Qatar government said the total was misleading, because any of those who died would had been living and working in Qatar for several years, and could have died from old age or other natural causes.
It said official records show that between 2014 and 2020, there were 37 deaths among labourers at World Cup stadium construction sites, only three of which were "work-related".
The International Labour Organisation says this is an underestimate, because Qatar doesn't count deaths from heart attacks and respiratory failure as work-related – even though these can result from working in high temperatures.
It estimates that 50 foreign labourers died and more than 500 others were seriously injured in Qatar in 2021 alone, and another 37,600 suffered mild to moderate injuries.
Why was Qatar chosen as the World Cup host?
In 2010, Qatar clinched the rights to the World Cup after winning a ballot of Fifa's 22 executive members, beating bids from the US, South Korea, Japan and Australia.
It is the first Arab nation to host the tournament.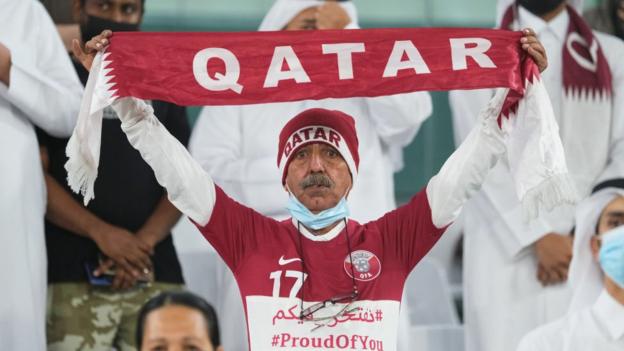 Qatar was accused of paying Fifa officials £3m ($3.7m) in bribes to secure their backing, but was cleared after a two-year investigation.
At the time, Fifa's then-chairman, Sepp Blatter, supported the bid, but now says it was a "mistake" to award the World Cup to Qatar.
What can World Cup fans expect in Qatar?
Qatar has built seven stadiums specifically for the finals, as well as more than 100 new hotels, a new metro and new roads.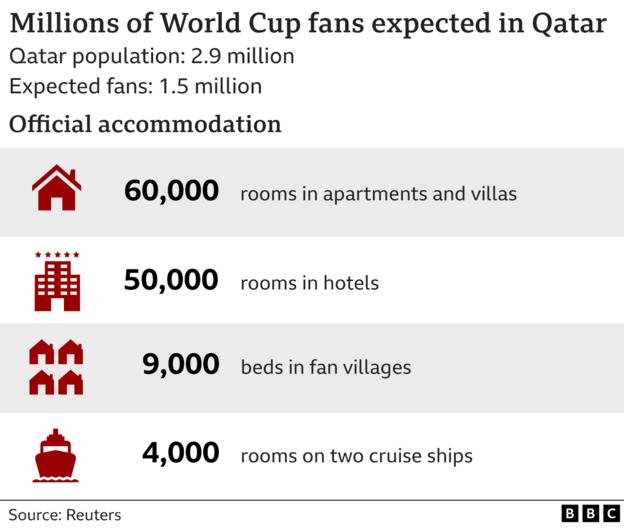 As a conservative Muslim country, drinking in Qatar is normally restricted to hotel bars. A pint of beer can cost £10 ($13).
World Cup organisers say that during the finals, alcohol will be served within stadiums for three hours before matches and for one hour afterwards.
Alcoholic drinks will also be available in a 40,000-capacity fan zone in Doha, and there will be zones where fans can go to sober up.
How hot is it in Qatar?
At the time of the finals, the temperature in Qatar is usually around 25C (77F).
Had the competition been held in June and July, as usual, matches would have been played in temperatures exceeding 40C, and possibly reaching 50C.
Qatar initially proposed hosting the finals during the summer in air-conditioned enclosed stadiums, but the plan was rejected.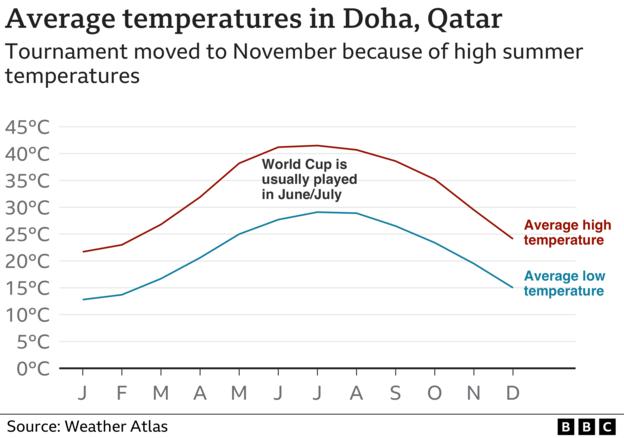 Disclaimer: This story is generated from RSS Feed and has not been created or edited by Waba News. Publisher: BBC News